November 16, Multicultural Center, UCSB
November 14, Poetry Out Loud, Santa Maria
November 12, Gunpowder Press Reading 2:30 pm, Botanic Garden, Santa Barbara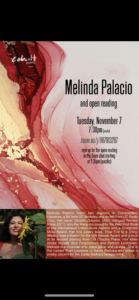 November 7, Poetry Super Highway Zoom reading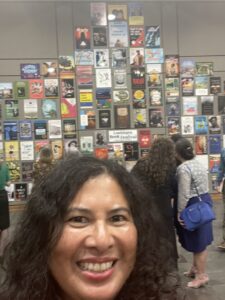 October 28, Louisiana Book Festival, Baton Rouge
October 22, Día de Los Muertos Family Day at the Santa Barbara Museum of Art. Poetry and Music performance 1:15-1:35, 2:15-2:35, and 3:15-3:35
October 21, SBCEO's 71st annual Breakfast with the Authors, 9:30 am  to 12:30 pm
October 7, Poetry Buffet book party at the Latter Library in New Orleans 2pm
October 3, Odes Poetry Workshop, SBPL, Faulkner Gallery, 6-7:30 pm
September 28, SBEF Luncheon MC, noon,
September 23-24, L.A. Uke Fest
September 22, Poetry Panel for Friends of the Library, Faulkner Gallery, SBPL 6-8 pm
September 21, Writing in the Galleries. Santa Barbara Museum of Art Workshop, 5:30 pm
September 16, East Public Library, Santa Barbara 50th Birthday Party, Noon
September 11, Library On-the Go Van at Brass Bear Uptown Santa Barbara 5pm Poetry and Songs
September 10 Poetry for Perla Batailla's concert at the Marjorie Luke Theater, 6pm Free
September 7, First Thursday Poetry Event, Interactive Typewriter Poems: On Demand Poetry with five local poets, State Street in front of Old Navy, 5-8 pm.
September 2, WNBA Poetry Buffet Zoom, noon.
August 25, Santa Barbara Writers Symposium, Friday 6:30-8:00pm La Cumbre mall, Santa Barbara
August 19, East Side Public Library, Santa Barbara 10am-noon
August 17, Music and Poetry Shoreline Park Reading with the SBPL on the go van, 11 am to 1  pm, Santa Barbara, Ca. Keyt clip of the event.
August 13, Flor y Canto at Casa Sedano, Pasadena CA (private event)
July 16, the Maple Leaf Bar Poetry Series, New Orleans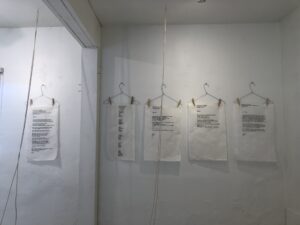 July 7, The Dichotomy of Laundry Poems. Ekphrastic Poetry Reading for Colleen Kelly's art show. Opening Reception Silo 118 Gallery, 118 Gray Avenue, Santa Barbara, CA.  5-7pm.
July 1, Farmers Market busking performance with the Lady Strummers
June 24, Solstice Parade
June 23: Be Your Own Best Publicist Workshop with Lida Sideris  9 am Santa Barbara Writers Conference

June 21: Garden Songs: Poetry and Music with Melinda Palacio, Santa Barbara Poet Laureate, 10:30-11:30, Santa Barbara Botanic Garden in the courtyard. This experience is free and open to all.
June 20, Poetry Reading with SK Rolle at Pacifica 6:30 pm
June 20 Poetry Reading for Perie Longo, SBWC 9 am
June 18-23, The Santa Barbara Writers Conference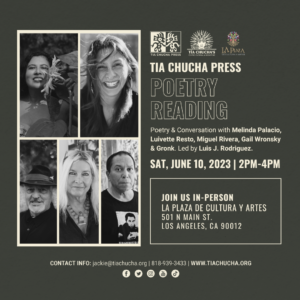 June 10, La Plaza Cultural, TCP authors 2pm
June 8, Youth Summit on Identity at the SBMCA
June 1st Thursday 6pm: The Laureate Series: featuring California Poet Laureate Lee Herrick, Santa Barbara Poet Laureate Melinda Palacio, Youth Poet Laureate Madeline Miller, and special guest Solange Aguilar, June 1st at the Museum of Contemporary Art, Paseo Nuevo, Santa Barbara, CA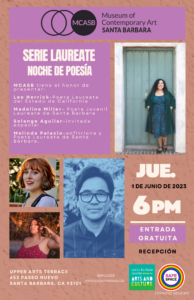 May 15, Santa Barbara Historical Museum, Poetry Pairing with Women's Literary Voices
May 4, Santa Barbara County Education Poetry Slam
April 29-30, Santa Barbara Earth Day Celebration
April 8, Poetry Without Borders, Poesia Sin Fronteras, a one-day poetry festival in New Orleans, Cafe Instanbul, 2372 Saint Claude, New Orleans, 2-7 pm
April 18, Poet Laureate Induction at City Hall SBApril 18, Santa Barbara Poet Elects its 10th Poet Laureate, 2pm City Hall, 735 Anacapa Street, Santa Barbara, CA
April 8, Poetry Without Borders, Poesia Sin Fronteras, a one-day poetry festival in New Orleans, Cafe Instanbul, 2372 Saint Claude, New Orleans, 2-7 pm
April  1, Poetry Buffet, zoom event